Lorggen
The story of these giants has survived to the present in the legendary tales and odysseys of the Alpine peoples, where they're represented as mythological beings. Vestiges of these mythical legends can still be witnessed today along an exciting thematic trail that encircles the Plose.
The Plose itself is surrounded by four gigantic mountain ranges: the Königsangerspitze to the west, the Wilde Kreuzspitze to the north, the Peitlerkofel to the southeast and the Geislergruppe on the southern flank.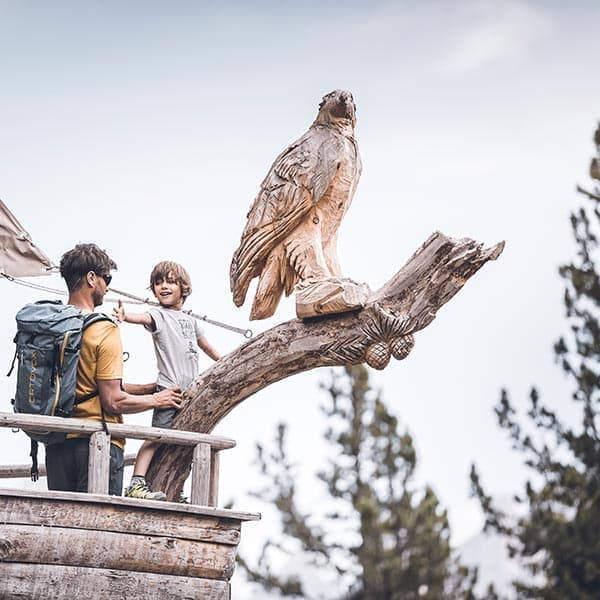 Lorggen, family hiking trail – Brixen Tourismus © Plose Ski spa
Description: Starting at the Plose gondola lift mountain station, follow the Lorggenring trail along the WoodyWalk before it branches off at a wide viewing platform. Stop for a minute and enjoy the view of the Dolomites before continuing into a dense woodland. Along the way, hikers learn about the Lorggen, ancient guardians of the forest and its inhabitants. From the Pfannspitz gondola lift valley station, you can quickly arrive at an elevation of 2,545 m. The view of the spectacular Geißler peaks and the surrounding mountains is absolutely phenomenal! Follow the trail along the ridge to the Plosehütte shelter, from where you can return to Kreuztal at the Plose gondola lift mountain station along trails no. 7 and then no. 3. This part of the circuit offers a magnificent panorama of the Brixen basin. The Lorggenring Hiking Circuit is also accessible to families with children, offering hikers of all ages a unique hiking experience on the slopes of the Plose.
Circuit hiking trail: Start from the Plose gondola lift mountain station – follow the WoodyWalk – at the crossing, take trail no. 17C – Skihütte – take the Pfannspitz gondola lift to an elevation of 2,545 m. Continue along trail no. 7 to the Plosehütte – return on trail no. 3 along the Schönjöchl ridge back to Kreuztal, until you reach the Plose gondola lift mountain station.
Lorggenring Circuit length:
Kreuztal – Skihütte = 3.5 km and 150 m difference in altitude downhill
Pfannspitz gondola lift mountain station – Kreuztal = 3.5 km and 420 m difference in altitude Downhill
Total Duration: 2.5 hrs
Restaurants on the way: The Restaurant La Finestra is located right next to the top station of the gondola lift Plose. Some minutes away you'll fine Alpine Hut Geisler. At the bottom station of the gondola lift Pfannspitz (About 1 Hour's walk) there is Restaurant Schlemmer and next to the top station of the same lift there is the Alpine Hut Pfannspitzhütte. Last but not least half an hour away from that hut you are always welcome to step in at the Alpine Hut Plosehütte.